A man suspected of dumping large sections of a tree on a Detroit street has been taken into custody after an unrelated court appearance for an indecent exposure incident.


He says that occurred because his pants were too large.
Ihor Stetkewycz was in court on Thursday facing indecent exposure, malicious destruction of property and disorderly conduct charges in a total of four cases.
The charges are in connection with three cases in the city of Warren and another in Macomb County.
A pair of neighbours in court said they had a personal protection order against Stetkewycz. They say he pulled his pants down in front of their whole family.
Mr Stetkewycz explaining how he don't take no orders from no woman.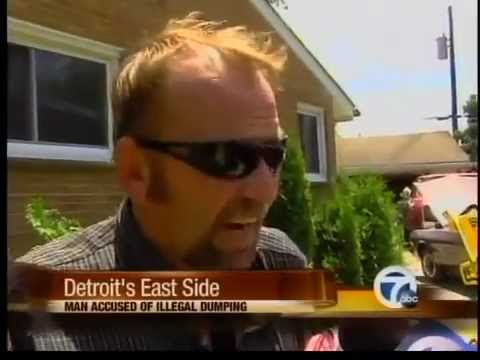 Stetkewycz explained the incident by saying, "My mom bought me pants that were 10 sizes too big for me."
Still, the neighbours argue they were so fearful of Stetkewycz they had to install cameras to document his erratic behaviour.
During Thursday's hearing Stetkewycz was ordered to undergo a competency exam. He was taken into custody because he missed a pretrial hearing three times before Thursday's hearing. Stetkewycz showed up to court several hours late.
He claimed he had spotted one of his stolen cars and tried to chase it down along I-94. The explanation clearly upset the judge who set his bond at $50,000 for each count.
Stetkewycz had been interviewed by a TV reporter the day before after a witness reported seeing his truck dumping sections of a tree onto Kalsh Street on Detroit's east side.
Stetkewycz denied dumping the tree, saying he hit a kerb and the wood accidentally tumbled out of the truck.
When asked him why he would just leave the wood in the street, he said: "You don't have to ask me, and I don't take no orders from no woman by the way. By the way, I don't take no orders from no women," said Stetkewycz.
Mr Stetkewycz explaining how the trousers his mother had bought for him were ten times too large.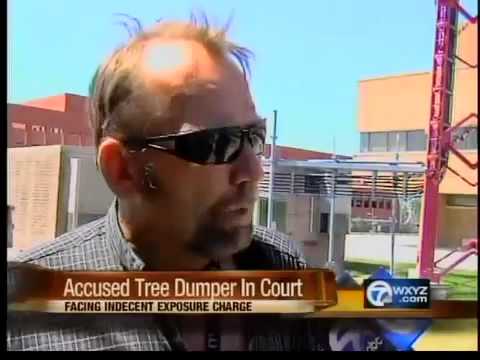 When asked why he ignored people yelling at him to stop he continued with his offensive comments.
"It must have been a woman and I don't listen to women yelling. I tell them to shut up." he said.
When asked if he had any plans to clean up the mess he responded: "Oh yes. I'm Mr. clean up. I'm not Mr. Clean. I'm Mr. clean up," said Stetkewycz.
He went on to say that he's from Mars.
Detroit police continue to investigate the case and it's not clear whether he will be fined.
Jeff Brown, the Detroit man who says he witnessed the dumping, said he will be pressing charges.